You've met Lynda--now let us introduce Alison!
ALISON.COM provides over 600 FREE video-based e-learning courses on workplace skills, available for you to study on your schedule and at your own pace. We've sampled some of their Microsoft Office 2010 courses and think that this resource is well worth consideration for updating and maintaining your technical skills.
ALISON boasts of over 3 million learners and 350,000 graduates worldwide. The company has won a UNESCO Award for Innovation in ICT for Education and the 2013 WISE World Innovation Summit for Education Award. Their major categories include:
Business & Enterprise Skills
Digital Literacy & IT Skills
Personal Development & Soft Skills
Language Learning
Schools Curriculum (e.g., math, chemistry, physics)
Health & Safety
Financial & Economic Literacy
Quick tips:
When you search for a course on Alison.com, be sure to scroll down a little to look for the search results specifically from Alison.com -- the site is paid for by advertising revenue, so you will find a lot of sponsored ads on the screen.
To get back to a course you've already started, go to the My Accounts menu (upper right-hand corner of the screen) and select Courses.
Courses are organized into Modules, which are divided into individual Topics, each with one video. When you start a course and get into the first lesson, look for the navigation menu on the right-hand side of your browser window. Use this to move ahead within a module, and to jump to other modules.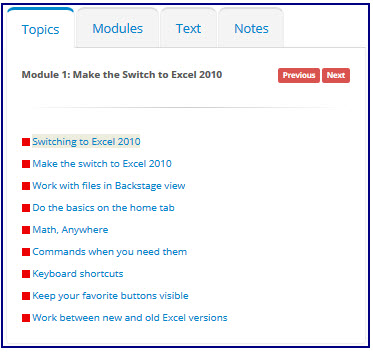 We're very excited to share this resource with you. If you try Alison.com, please let us know what you think in the comments below!