There are several ways that you can receive notices about what we post here. Any one of of these methods should keep you in the loop:
Subscribe by email
Click on Subscribe by email to receive a daily update of any new content added to this site. You will need to enter your email address and reply to a confirmation email from the Google Feedburner service, and after that, you won't miss a thing!
Twitter
Go to twitter.com/YUemployeelearn and click Follow to add our tweets to your Twitter feed. If you don't have a Twitter account, you can bookmark the page instead.
Facebook
Visit www.facebook.com/yuemployeelearn and click Like to join our page. But wait--there's more!
Only 10-20% of our subscribers will be shown any given post from our Facebook page. If you want to get a notice every time we post something new, do this as well: click on the Liked button and select "Get notifications". Every time we post something to the page (usually no more than once a day), you'll see it in your Notifications menu.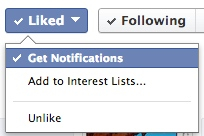 RSS (Rich Site Summary) Feed
Click the orange RSS icon and subscribe to this blog's feed with Live Bookmarks (a feature of Firefox) or your favourite feed reader. You can even subscribe to an RSS feed using Lotus Notes!